Please enable JavaScript to browes this site.


---
---
Testimonials
Ardanien Entertainment were DJs for Danny and Kiri for their wedding in April 2012
and again for Danny's 30th in June 2013.

At his party Danny received some instruction from Vinn on how to DJ...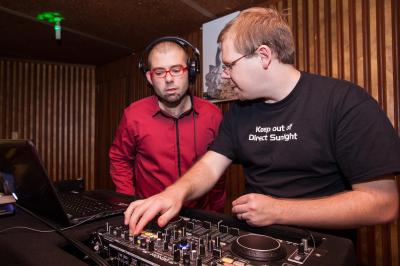 (Our thanks to Eric from Red Photography for the photo)
Afterwards Kiri sent us this lovely note...
Hi Kerilyn and Vinn,
I would like to thank you again for the music at Danny's 30th on Saturday.

The service I receive from you is always professional yet super friendly.

The entertainment on the night is always phenomenal! You have the experience to know a crowd and what it wants, and you try to please everyone present.

I recommend you all my friends for events and I look forward to seeing you again at future parties!

Take care!
Kiri

---
Dear Kerilyn,


Rhys and I would like to thank you, Emile and Vinn so much for your
fantastic organisation and attention to detail for our wedding reception.
We had an amazing day and everything went so well. I really appreciate
your time and effort in working closely with me to ensure that every
detail was planned to perfection. Your service was extremely efficient
and always friendly, which really helped relieve the stress of planning
the many different aspects of our wedding reception. Emile was
excellent, he played a fantastic variety of music and really tuned in to
our personal style of music. Emile was very professional, well
presented, courteous and helpful throughout the night.

I will be sure to highly recommend Ardanien Entertainment to family and friends in the future.

Thank you so much

Emma and Rhys
(wedding April 2013)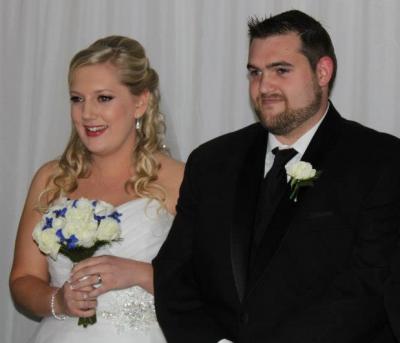 ---
Stephanie & Steve had their wedding in August 2012...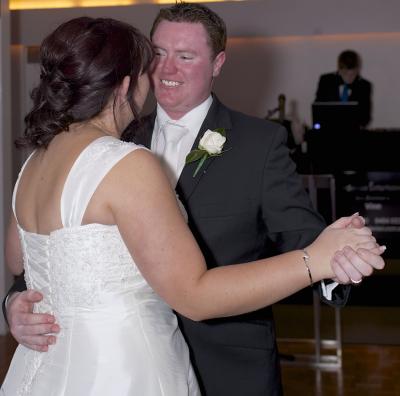 Hi Vinn and Kerilyn,

Steve and I can not thankyou enough for the fantastic night you provided for us on our special day.
You made the whole process easy to deal with and easy to understand as well.

From when I first met you at the Bridal Fair to a week before the
wedding, you were very helpful with all the questions I asked and always
willing to give advice when needed.
I will definitely be letting other people know of your business and hope they can experience your fantastic work.
Thank you again for all your work.

Kind regards
Stephanie and Steve

(Stephanie & Steve had Vinn as their DJ, with Jack in training, and also had these things to say about the night...)


You guys were very friendly when I first met you at the Bridal Fair a
few years ago and also my husband%u2019s cousin used your service that only
made us want to choose you guys more.

(Did Ardanien Entertainment provide the music you selected, and the atmosphere you had pictured for your reception?)
It did and you were also able to make people who have never danced at other weddings before, get up and have fun.

It was very easy to understand what was going to happen on the night and what we were expecting for the experience.

...you are friendly, helpful and able to help people who have no idea what to expect to happen at a wedding.

(Are there any other comments you would like to make?)
you guys are fantastic :)
---
Dear Emile and Vinn
I am just writing to say a huge "Thank You" for the great job you did for our wedding in Eden in February.
From meeting with us twice before the wedding to doing a fantastic job on the actual day - it was all really professional.
Emile- As you could tell, our guests were loving every minute and if the venue had allowed it, we would have partied longer!
Thanks again and I'll definitely recommend your business to any friends planning weddings.
Cheers,
Joanna and Guy (February 2012)
---
Ardanien Entertainment were very helpful at the bridal expo at EPIC park and offered a variety of choices. They also looked very professional.
Emile was wonderful even so that my MC has booked him in for his wife's 50th birthday party. He should be very pleased with himself and everyone else also commented on how nice he was.
The atmosphere was amazing and I don't think there was even one point when the dance floor was ever empty! He definitely played off the guests and did an amazing job at it. He selected the music I had wanted. There just weren't enough hours in the night! :) I was really happy.
Great job guys and would use you again in a heart beat! My friends have already been asking me who I used so expect some people to call you in the next few months!
Lindsay & Cristian (January 2012)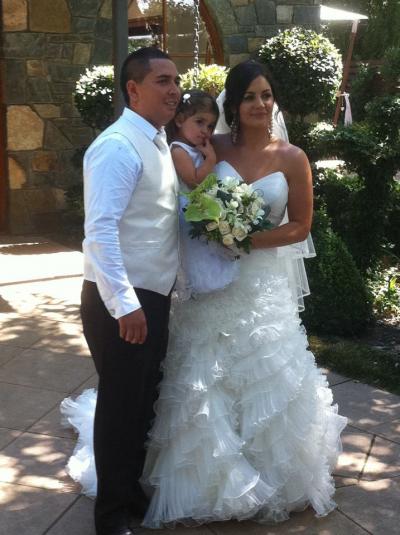 ---
Hi Vinn,
Thankyou very much for your service! We had such a fantastic night. The music was great and Emile was very helpful and professional.
After attending a wedding fair at EPIC I met Emile who was very informative and helpful when it came to explaining how your business operated. Was very impressed!
Did Ardanien Entertainment provide the music you selected, and the atmosphere you had pictured for your reception? Yes, there was nothing that wasn't right.
Our guests were VERY happy that Emile played an extra song, or maybe it was 2, at the end of the night - they all thought he was very accommodating for 'One more, one more!!!'
Alyssa& Rob (January 2012)
---
Tim and I have been told by a few of our guests that our wedding was one of the best weddings they have been to. The entertainment plays a big part of that.
Thankyou

Megan and Tim (January 2012)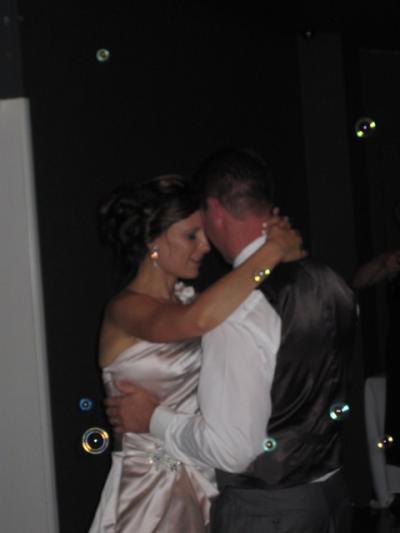 ---
Why did you choose Ardanien Entertainment for your reception? I first met Vinn at a bridal expo (at Epic) and he was very knowledgeable and seemed to have a lot of experience with weddings, and later when I saw Ardanien DJ at a friend%u2019s wedding I was impressed with their service, so I pretty much booked on the spot.

How would you rate Ardanien Entertainment out of 10 for service? 10/10. During the lead up to the wedding they (Kerilyn!) were very organised and provided stacks of information and ideas for songs, and when discussing our choices for the night, Vinn was a great help by running through songs he thought we might like (we knew we were in good hands).

Was your entertainer/DJ well presented, courteous and helpful throughout the night? Couldn%u2019t find fault with the the DJ (Emile) on the night, he was all of the above and showed a lot of flexibility during the night as things came up (i.e. Bride was having too much fun dancing!) Ardanien made the night so special for us. Many of our guests have even commented on how great the DJ was, including one being overheard talking about Daryl Braithwaite%u2019s Horses and the next thing she knew it was being played!

Did Ardanien Entertainment provide the music you selected, and the atmosphere you had pictured for your reception? Ardanien not only provided the music requested, but nothing was too much to ask, they even had (or maybe found for us) a few songs we thought were a bit obscure and they might not have, including a Bob Dylan cover for our first dance. Everything was as hoped for, I was impressed with how Emile interacted with the guests, and managed the night to ensure we got through everything (bouquet and garter toss, farewell circle) before we were scheduled to leave at the end of the night.

Is there anything Ardanien Entertainment could have done to make your evening better? Short of providing a way to make our wedding day last longer, Ardanien couldn%u2019t possibly have made our night any better!

Are there any other comments you would like to make? The highlight of my night was a surprise rendition of %u201CYou%u2019ve Lost That Loving Feeling%u201D by the Groomsmen (the Groom and his mates are huge Top Gun fans), being a very organised bride, I had everything planned out exactly, and while I really enjoyed my night, I knew everything that was coming up next, until %u201Cyou never close your eyes anymore....%u201D Thanks to Emile for aiding the boys with the only (lovely) surprise to my big day!

Emily (& Eric - January 2012)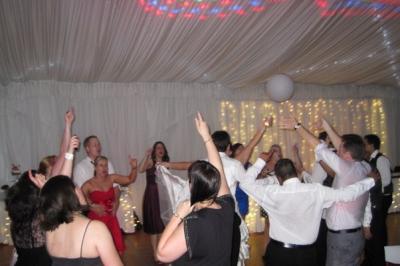 ---
The services that were offered were exactly what we were after.
Many guests commented on how well the DJ/MC handled the night. We were pleased with the music played on the night.
Our entertainer (Vinn) was very well presented, courteous and helpful. We were very impressed that although we were running behind schedule at the start of the evening, we still managed to wrap things up on time in the end.
Liz & Jojo (November 2011)
---
We chose Ardanien for it's value for money.
Of all the DJ services I had enquired to, Ardanien provided the most bang for your buck and they were flexible in negotiating a travel cost to Goulburn. They also had an amazing setup at the Wedding Expo.
Did Ardanien Entertainment provide the music you selected, and the atmosphere you had pictured for your reception? Absolutely! We had such a perfect wedding and the Ambiance was great. Emile was always coming up to let us know where we were up to on the runsheet and was very flexible when when requested some slight changes on the fly.

Thank you Emile and Ardanien for a wonderful service, will definitely recommend to any other Brides getting married :)
Dannielle & Brendan (November 2011)
---
Our DJ was Emile, he was fantastic, helped with everything.
We
met with Emile and went through the the songs we wanted and the music we
like, everything came together really well on the night. Emile put
together a great playlist, the night couldn't have gone better and we
had a lot of compliments regarding the music - everyone really enjoyed
it.
Bronwyn & Ben (October 2011)
---
Hi guys,
Would just like to thank Emile for doing such a great job at our wedding! We had the best time and hope he enjoyed it too!!!
He was fantastic! Did a perfect job! Everything was done as we asked and ran sooooo smoothly!!!
Kylie and Robert (October 2011)
---
I met you at the bridal expo in Canberra and was impressed that you had the time to chat with me and seemed generally interested in my preparations of our wedding, (so that was points!) then talking to a friend that I worked with about the services that you can include in your packages she too mentioned that she had your services at a birthday party and she was impressed.
You guys were helpful when I needed to ask questions, easy to talk to and I think that having a sense of humour was definitely helpful!
Was your entertainer/DJ well presented, courteous and helpful throughout the night? Very,especially Vinn with his little 2 line jokes as Vinn was our MC as well as DJ.
It was great that the questions were asked in the meetings before the wedding e.g. what colour theme is your wedding so I don%u2019t wear that colour.
We were very happy with the music ... since my dad spent the whole night on the dance floor it was definitely a great atmosphere!
I will definitely recommend your services as I was very happy with them! THANKS AGAIN GUYS!!!
Shannon (& Geoff - October 2011)
---
We had been to two weddings previously where Vinn was the DJ and had enjoyed the music selection. We also received great feedback on the fact that you were comfortable doing events with limited guidance from the bride and groom as to what they wanted. We knew we wanted good, fun music that everyone could dance to and you were able to translate that simple wish into a great evening that was enjoyed by us and all our guests.
Was your entertainer/DJ well presented, courteous and helpful throughout the night?
Yes definitely. Vinn even made sure we were happy for him to have a trainee on board for the night. Both were well presented, friendly to our guests and even helped to steer our MC through the various parts of the evening.
Did Ardanien Entertainment provide the music you selected, and the atmosphere you had pictured for your reception?
Yes. We loved that everyone got up to dance after the formalities. The music selection was well suited that our young and old guests could be on the dancefloor at the same time. We got some great feedback from our friends and family who said that after we left, the party kept going with dancing until closing time! This is exactly what we wanted to happen.
Andrew& Jennifer (October 2011)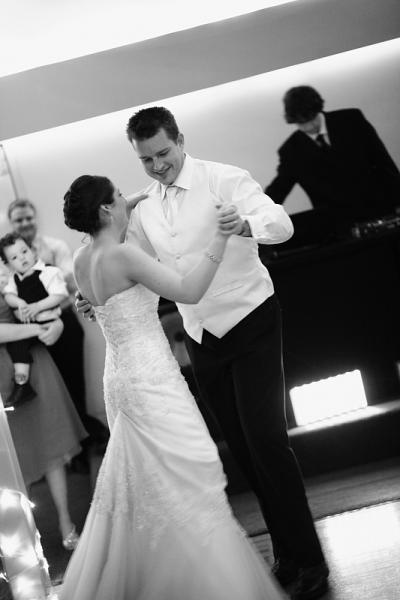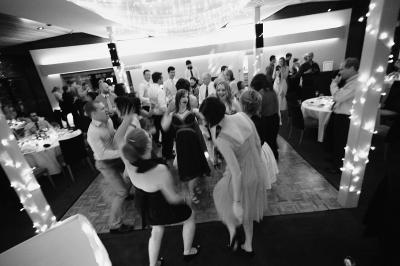 ---
Why did you choose Ardanien Entertainment for your reception? We liked your website - it looked more professional and organised thanyour competition's website.

Our DJ Emile was amazing - 10/10. DJ Emile was very well presented, extremely courteous and very helpful throughout the night.

Did Ardanien Entertainmentprovide the music you selected, and the atmosphere you had picturedfor your reception? It sure did thanks :-) BTW Vinn - a lot of people commented that they liked the table poetry - thanks for this idea - it was loads of fun :-)

Is there anything ArdanienEntertainment could have done to make your evening better? Not a single thing - DJ Emile was the perfect DJ for our reception.

We'll definitely use your services in future for other parties that we are planning :-)

Cheers,
Brett & Anita (September 2011)
---
You did an awesome job for making our evening a memorable one, keep it up!
Apple & Dave (June 2011)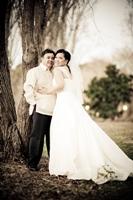 ---
Dear Kerilyn and Vinn
This email is to say a big 'THANKYOU' for providing such fantastic entertainment for Jasmine and Penny's 18th birthday celebration. Vinn you were absolutely great and I was very impressed with your emcee and entertainment skills on the night - you rock!!
Thank you for being such an organised and professional team - everyone loved the entertainment and I'm confident further business from the night will come your way as a result.
All the best for 2011 and once again a huge thankyou from all of us.
Kind Regards
Carolyn
---
Vinn,
I just wanted to send a quick email to say that Emile did an awesome job playing DJ at our wedding!
He certainly lived up to expectations keeping the dance floor full. We have already had people asking "where did you get that DJ?".
He also did a great job when my cousin threw a curve ball when she added some Spanish dancing to the mix and he was able to roll with the changes in plans and fill the dance floor again with no issues.
Once again thank you and Kerilyn for all your help, you made our night an extra special success!
Tanya & Charlie
---
Hey Guys, It was SO AWESOME!!! I just want to do it again, skip the wedding part and get straight to the party of course!!! You did such a great job!!!! Sound was AWESOME! Thank you so much for a great night, We had a fantastic night and everyone has commented on how much fun it was. We almost had wedding crashers because they thought it sounded awesome inside! Well done, We are so impressed with how the night came together and your patience as we were MIA quite alot throughout the night. WOW, Thank you P.S Sorry we took so long to getting around to telling you how great it was.
Alex & Lisa
---
Hi there Vinn, Andy and I just want to thank you for your awesome work at our wedding. You were everything we wanted in both a DJ and a MC You really attributed to a fantastic night and want you to know that we will recommend you to everyone we know. We actually have had some of our guests comment on what a great job you did so the proof is in the pudding.
Jenny
---
Just a quick email to say thank you for providing the entertainment for our wedding! Thank you Kerilyn and Graham! We had a great time and so did everyone else!! So thank you again!!
Michelle
---
I would like to express my gratitude to Ardanien Entertainment for assisting in making our Wedding Reception in September 2008 a very memorable night, especially in the role as the Entertainment Organiser and MC. From the first meeting, Vinn and Kerilyn made us feel welcome and we in turn felt very much at ease with them. They listened to what we wanted and were very willing to accommodate our selection of music, and to obtain those songs they did not currently have. Ardanien Entertainment offered us personalised service and spent many hours with us helping with the song selections, order of play and for performing the duties of the Master of Ceremony for the Reception. Everything was perfect and all of our guests enjoyed the night, even the Karaoke Ardanien offered later in the night. Ardanien Entertainment ensured that the service offered was very personal and professional. I highly recommend Ardanien Entertainment as the number one choice for any function.
Paul
---
Thank you so much for being a part of our wedding. We had a wonderful time and wish we could do it all again. If we could we would not hesitate to call on your professional services again. You were great. Matt really loved it when you played 'I'm too sexy...' before his speech.
Julia